Fun In The Sun Beachy Instagram Captions
We bet you'll be taking a lot of jaw-dropping photos in your NEW SALTEES Bikinis & Swimwear! Tag Us for a Feature! @stay.saltee 
Find the BEST beachy captions for your latest epic Instagram photos! Of course, your photos are center stage, but it's your funny, cute, inspiring or even savage caption that gets your followers interacting!
Check Out SALTEES Bikinis & Swimwear Collection and SALTEES Swimwear for Men
If it requires a bikini, my answer is yes
It's not Sunday unless you're drinking champagne in your bikini
Good vibes happen on tides
Good times and tan lines
Every season is bikini season
Life's too short to wear boring bikinis
A bikini kinda life
Sun's out buns out
Home is where you own a bikini drawer
Peace, love and bikinis
How to get a bikini body - Put on a bikini
Find Me Under The Palm Trees Wild & Free!
Tropic like it's hot
I love you to the beach and back
Beach please!
You, me and the sea
Salty but sweet
Sea you soon
No one likes shady beaches
Forget the glass slippers - this princess wears flip flops
"𝚃𝚑𝚎 𝚙𝚘𝚘𝚕 𝚊𝚛𝚎𝚊 𝚠𝚊𝚜 𝚙𝚎𝚛𝚏𝚎𝚌𝚝 𝚠𝚒𝚝𝚑 𝚕𝚘𝚝𝚜 𝚘𝚏 𝚙𝚊𝚕𝚖 𝚝𝚛𝚎𝚎𝚜 𝚐𝚎𝚗𝚝𝚕𝚢 𝚜𝚠𝚊𝚢𝚒𝚗𝚐 𝚒𝚗 𝚝𝚑𝚎 𝚠𝚒𝚗𝚍. 𝙸𝚝 𝚠𝚊𝚜 𝚠𝚊𝚜 𝚏𝚎𝚗𝚌𝚎𝚍 𝚒𝚗 𝚊𝚗𝚍 𝚝𝚑𝚎 𝚐𝚞𝚎𝚜𝚝𝚜 𝚊𝚛𝚛𝚒𝚟𝚎𝚍 𝚊𝚜 𝚝𝚑𝚎 𝚌𝚎𝚕𝚎𝚋𝚛𝚊𝚝𝚎𝚍 𝙲𝚑𝚎𝚏𝚎𝚜𝚝𝚛𝚎𝚜𝚜 𝚃𝚊𝚖𝚒𝚔𝚊 𝚊𝚗𝚍 𝚑𝚎𝚛 𝚜𝚘𝚞𝚜-𝚌𝚑𝚎𝚏, 𝙳.𝙹. 𝙼𝚊𝚐𝚒𝚔, 𝚠𝚎𝚛𝚎 𝚋𝚞𝚜𝚢 𝚙𝚛𝚎𝚙𝚊𝚛𝚒𝚗𝚐 𝚕𝚊 𝚌𝚞𝚒𝚜𝚒𝚗𝚎 𝚎𝚡𝚝𝚛𝚊𝚘𝚛𝚍𝚒𝚗𝚊𝚒𝚛𝚎! 𝙳.𝙹. 𝙼𝚊𝚐𝚒𝚔, 𝚁𝚎𝚎𝚏'𝚜 𝚕𝚒𝚟𝚎𝚕𝚢 𝚘𝚕𝚍 𝚙𝚊𝚕 𝚏𝚛𝚘𝚖 𝚑𝚒𝚜 𝚑𝚘𝚖𝚎 𝚝𝚘𝚠𝚗 𝚏𝚕𝚎𝚠 𝚒𝚗 𝚓𝚞𝚜𝚝 𝚏𝚘𝚛 𝚝𝚑𝚎 𝚙𝚊𝚛𝚝𝚢. 𝙰 𝚓𝚊𝚌𝚔-𝚘𝚏-𝚊𝚕𝚕-𝚝𝚛𝚊𝚍𝚎𝚜 𝚠𝚑𝚘 𝚠𝚊𝚜 𝚎𝚗𝚝𝚑𝚞𝚜𝚒𝚊𝚜𝚝𝚒𝚌𝚊𝚕𝚕𝚢 𝚑𝚎𝚕𝚙𝚎𝚍 𝚁𝚎𝚎𝚏 𝚜𝚎𝚝 𝚞𝚙 𝚝𝚑𝚎 𝚜𝚝𝚊𝚐𝚎 𝚊𝚗𝚍 𝚜𝚘𝚞𝚗𝚍 𝚎𝚚𝚞𝚒𝚙𝚖𝚎𝚗𝚝 𝚠𝚊𝚜 𝚗𝚘𝚠 𝚜𝚑𝚘𝚠𝚒𝚗𝚐 𝚘𝚏𝚏 𝚑𝚒𝚜 𝚌𝚞𝚕𝚒𝚗𝚊𝚛𝚢 𝚜𝚔𝚒𝚕𝚕𝚜 𝚋𝚢 𝚑𝚎𝚕𝚙𝚒𝚗𝚐 𝚝𝚑𝚎 𝚒𝚗𝚜𝚝𝚊𝚏𝚊𝚖𝚘𝚞𝚜 𝙲𝚑𝚎𝚏 𝚃𝚊𝚖𝚒𝚔𝚛𝚊 𝚠𝚒𝚝𝚑 𝚝𝚑𝚎 𝚙𝚊𝚛𝚝𝚢 𝚌𝚑𝚘𝚠. 𝚃𝚑𝚎 𝚝𝚑𝚛𝚎𝚎 𝚜𝚑𝚊𝚛𝚎𝚍 𝚜𝚝𝚘𝚛𝚒𝚎𝚜 𝚘𝚏 𝚝𝚑𝚎𝚒𝚛 𝚏𝚊𝚟𝚘𝚛𝚒𝚝𝚎 𝚍𝚒𝚜𝚑𝚎𝚜 𝚊𝚜 𝚁𝚎𝚎𝚏 𝚜𝚗𝚞𝚌𝚔 𝚗𝚒𝚋𝚋𝚕𝚎𝚛𝚜 𝚎𝚟𝚎𝚛𝚢 𝚝𝚒𝚖𝚎 𝚃𝚊𝚖𝚒𝚔𝚊 𝚝𝚞𝚛𝚗𝚎𝚍 𝚊𝚛𝚘𝚞𝚗𝚍. 𝙽𝚘𝚝 𝚘𝚗𝚕𝚢 𝚠𝚊𝚜 𝚃𝚊𝚖𝚒𝚔𝚊 𝚊𝚗 𝚊𝚖𝚊𝚣𝚒𝚗𝚐 𝚌𝚑𝚎𝚏, 𝚋𝚞𝚝 𝚜𝚑𝚎 𝚊𝚕𝚜𝚘 𝚝𝚛𝚊𝚒𝚗𝚎𝚍 𝚖𝚘𝚜𝚝 𝚘𝚏 𝚝𝚑𝚎 𝚐𝚒𝚛𝚕𝚜 𝚊𝚝 𝚝𝚑𝚎 𝚙𝚊𝚛𝚝𝚢. 𝚃𝚑𝚎𝚢 𝚊𝚕𝚕 𝚏𝚘𝚕𝚕𝚘𝚠𝚎𝚍 𝚑𝚎𝚛 𝙾𝚗𝚕𝚒𝚗𝚎 𝙵𝚒𝚝𝚗𝚎𝚜𝚜 𝙿𝚛𝚘𝚐𝚛𝚊𝚖 𝚓𝚞𝚜𝚝 𝚠𝚊𝚒𝚝𝚒𝚗𝚐 𝚝𝚘 𝚋𝚎 𝚝𝚑𝚎 𝚗𝚎𝚡𝚝 𝚝𝚘 𝚐𝚎𝚝 𝚏𝚎𝚊𝚝𝚞𝚛𝚎𝚍 𝚒𝚗 𝚃𝚊𝚖𝚒𝚔𝚊'𝚜 𝙲𝚕𝚒𝚎𝚗𝚝 𝙷𝚒𝚐𝚑𝚕𝚒𝚐𝚑𝚝𝚜 𝚘𝚏 𝚝𝚑𝚎 𝚆𝚎𝚎𝚔. 𝚃𝚊𝚗𝚒𝚔𝚊 𝚒𝚜 𝚝𝚑𝚎 𝚐𝚘-𝚝𝚘 𝚐𝚒𝚛𝚕 𝚏𝚘𝚛 𝙶𝚕𝚊𝚖 𝙻𝚒𝚏𝚎𝚜𝚝𝚢𝚕𝚎 𝙲𝚘𝚊𝚌𝚑𝚒𝚗𝚐 & 𝙱𝚘𝚍𝚢 𝙼𝚊𝚔𝚎𝚘𝚟𝚎𝚛 𝚂𝚙𝚎𝚌𝚒𝚊𝚕𝚒𝚜𝚝, 𝚠𝚒𝚝𝚑 𝚏𝚎𝚊𝚝𝚞𝚛𝚎𝚜 𝚒𝚗 𝚊𝚕𝚖𝚘𝚜𝚝 𝚎𝚟𝚎𝚛𝚢 𝚏𝚒𝚝𝚗𝚎𝚜𝚜 & 𝚏𝚊𝚜𝚑𝚒𝚘𝚗 𝚖𝚊𝚐𝚊𝚣𝚒𝚗𝚎 𝚏𝚛𝚘𝚖 𝙽𝚈𝙲 𝚝𝚘 𝙻.𝙰. 𝚁𝚎𝚎𝚏 𝚊𝚜𝚔𝚎𝚍 𝚑𝚎𝚛 𝚠𝚑𝚢 𝚜𝚑𝚎 𝚍𝚎𝚌𝚒𝚍𝚎𝚍 𝚝𝚘 𝚖𝚘𝚟𝚎 𝚝𝚘 𝚅𝚎𝚐𝚊𝚜. "𝙸 𝚑𝚊𝚟𝚎𝚗'𝚝 𝚍𝚎𝚌𝚒𝚍𝚎𝚍 𝚢𝚎𝚝. 𝙸'𝚖 𝚜𝚝𝚒𝚕𝚕 𝚘𝚗 𝚟𝚊𝚌𝚊𝚝𝚒𝚘𝚗 𝚑𝚞𝚗𝚗𝚢!" 𝚂𝚑𝚎 𝚌𝚑𝚒𝚛𝚙𝚎𝚍 𝚊𝚜 𝚁𝚎𝚎𝚏 𝚠𝚒𝚝𝚗𝚎𝚜𝚜𝚎𝚍 𝚑𝚎𝚛 𝚎𝚏𝚏𝚘𝚛𝚝𝚕𝚎𝚜𝚜𝚕𝚢 𝚠𝚑𝚒𝚙 𝚝𝚘𝚐𝚎𝚝𝚑𝚎𝚛 𝚊 𝚏𝚎𝚊𝚜𝚝 𝚊𝚗𝚍 𝚖𝚊𝚔𝚎 𝚒𝚝 𝚊𝚕𝚕 𝚕𝚘𝚘𝚔 𝚜𝚘 𝚊𝚜𝚝𝚘𝚗𝚒𝚜𝚑𝚒𝚗𝚐𝚕𝚢 𝚐𝚘𝚘𝚍 𝚊𝚗𝚍 𝚜𝚘 𝚍𝚊𝚗𝚐 𝚎𝚊𝚜𝚢! "𝚆𝚑𝚎𝚗 𝚢𝚘𝚞 𝚕𝚘𝚟𝚎 𝚠𝚑𝚊𝚝 𝚢𝚘𝚞 𝚍𝚘, 𝚢𝚘𝚞'𝚕𝚕 𝚗𝚎𝚟𝚎𝚛 𝚑𝚊𝚟𝚎 𝚝𝚘 𝚠𝚘𝚛𝚔 𝚊 𝚍𝚊𝚢 𝚒𝚗 𝚢𝚘𝚞𝚛 𝚕𝚒𝚏𝚎 𝚋𝚊𝚋𝚢!" 𝙹𝚞𝚜𝚝 𝚝𝚑𝚎𝚗, 𝙼𝚊𝚛𝚒𝚎 𝚜𝚞𝚍𝚍𝚎𝚗𝚕𝚢 𝚙𝚘𝚙𝚙𝚎𝚍 𝚒𝚗. 𝙰𝚏𝚝𝚎𝚛 𝚊 𝚏𝚎𝚠 𝚜𝚗𝚊𝚙𝚜𝚑𝚘𝚝𝚜 𝚠𝚒𝚝𝚑 𝚑𝚒𝚜 𝚌𝚎𝚕𝚎𝚋𝚛𝚒𝚝𝚢 𝚌𝚑𝚎𝚏 𝚒𝚝 𝚋𝚎𝚌𝚊𝚖𝚎 𝚌𝚕𝚎𝚊𝚛 𝚝𝚘 𝚁𝚎𝚎𝚏 𝚝𝚑𝚊𝚝 𝙼𝚊𝚛𝚒𝚎 𝚌𝚘𝚞𝚕𝚍𝚗'𝚝 𝚌𝚊𝚛𝚎 𝚕𝚎𝚜𝚜 𝚒𝚏 𝚑𝚎 𝚋𝚘𝚞𝚐𝚑𝚝 𝚑𝚎𝚛 𝚊 𝚍𝚛𝚒𝚗𝚔 𝚊𝚝 𝚊𝚕𝚕. 𝚂𝚑𝚎 𝚘𝚗𝚕𝚢 𝚑𝚊𝚍 𝚜𝚝𝚊𝚛 𝚜𝚝𝚛𝚞𝚌𝚔 𝚎𝚢𝚎𝚜 𝚏𝚘𝚛 𝚃𝚊𝚖𝚒𝚔𝚊. "𝙾𝚑 𝚝𝚑𝚊𝚝'𝚜 𝚊 𝚗𝚒𝚌𝚎 𝚘𝚗𝚎 𝚑𝚞𝚗𝚗𝚢!" 𝚂𝚑𝚎 𝚙𝚛𝚊𝚒𝚜𝚎𝚍 𝙼𝚊𝚛𝚒𝚎'𝚜 𝚜𝚎𝚕𝚏𝚒𝚎-𝚝𝚊𝚔𝚒𝚗𝚐 𝚜𝚔𝚒𝚕𝚕𝚜. "𝚆𝚑𝚢 𝚍𝚘𝚗'𝚝 𝚢𝚘𝚞 𝚐𝚘 𝚊𝚑𝚎𝚊𝚍 𝚊𝚗𝚍 𝚝𝚊𝚐 𝚖𝚎 𝚒𝚗 𝚝𝚑𝚊𝚝 𝚘𝚗𝚎 𝚘𝚗 𝙸𝚗𝚜𝚝𝚊𝚐𝚛𝚊𝚖 @𝚋𝚘𝚍𝚢𝚋𝚢𝚝𝚊𝚖𝚒𝚔𝚊"... READ TO WIN! 𝚃𝙷𝙴 𝙻𝙸𝚃𝚃𝙻𝙴 𝙱𝙻𝙰𝙲𝙺 𝙱𝙾𝙾𝙺 READ IT NOW!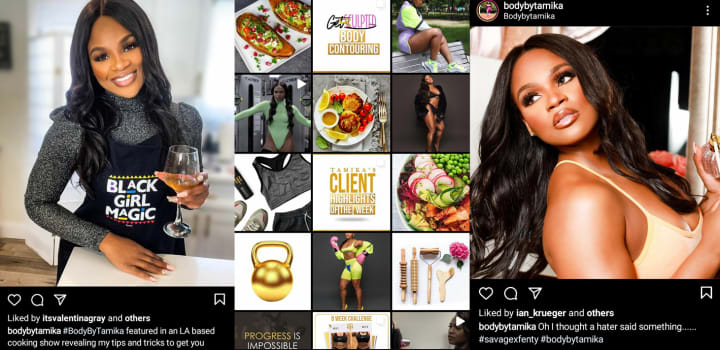 Palm Tree Quotes Instagram || Beach Quotes Good Vibes || Beach Vacation Captions || Instagram Captions || Instagram Quotes || Sunrise Instagram Captions || Sunset Instagram Captions || Beach Babe Captions || Beach Quotes || Sea || Ocean || Mermaid Instagram Captions || Mermaid || Mermaids || Sun || Summer || Summer Time
---